Avoid Foreclosure In Charlotte NC
It is a seller's market right now in Charlotte, NC. Buying foreclosed homes in Charlotte NC has been on the rise. That is good news if you are having financial difficulties and are looking at NC foreclosure on your home. These seven ways to prevent foreclosures in NC may help if you are in a bind. Which one of these is the best way to prevent foreclosure?
These seven ways to prevent foreclosure may help if you are in a bind:
Loan Modification
If you work with your lender, you may modify your loan and lower your monthly payments. Many times, this means that you will have to extend the number of years that you are paying on your mortgage, which may mean paying more in interest in the long run. However, it may save you from having to foreclose.
Repayment Plan
Your lender may be able to structure a repayment plan with you on your past due amounts so that you pay a little more each month until you pay off the back payments. This option may not be a viable choice if you are still having trouble paying your current monthly mortgage payment.
Forberance
If you can set up a
forbearance agreement
with your lender, you may be able to skip payments for an amount of time, adding them to the back end of the loan. You could also lower your payments for a specified amount of time. Usually, you will have to prove financial hardship to get a forbearance agreement.
Short Sale
A short sale is when the lender agrees to sell the house for less than you currently owe on it. This agreement will usually leave a gap amount that you will probably be responsible for, although you could come to an agreement with the lender that will forgive that gap in some instances.
Deed Instead of Foreclosure
A deed instead of foreclosure means that you turn over the house as-is to the lender. You and the lender agree that you will sign over the home to them and walk away so that the lender can sell the home, hoping to recoup their investment. Like with a short sale, this may mean that you have to pay the gap between what they sell it for, but usually, the agreement is to walk away free and clear.
Government Programs
Several government programs can help you if you are struggling to make your mortgage payments. Some offer to counsel and advise, and others help restructure loans. You can visit hud.gov to find out more about these programs.
Sell Your House
You can
sell your house
either by listing it or to any number of home buying companies that buy homes for cash. You can work with your lender to make sure that they are aware you are selling your home to pay off the debt, and they can help with temporary forbearance terms.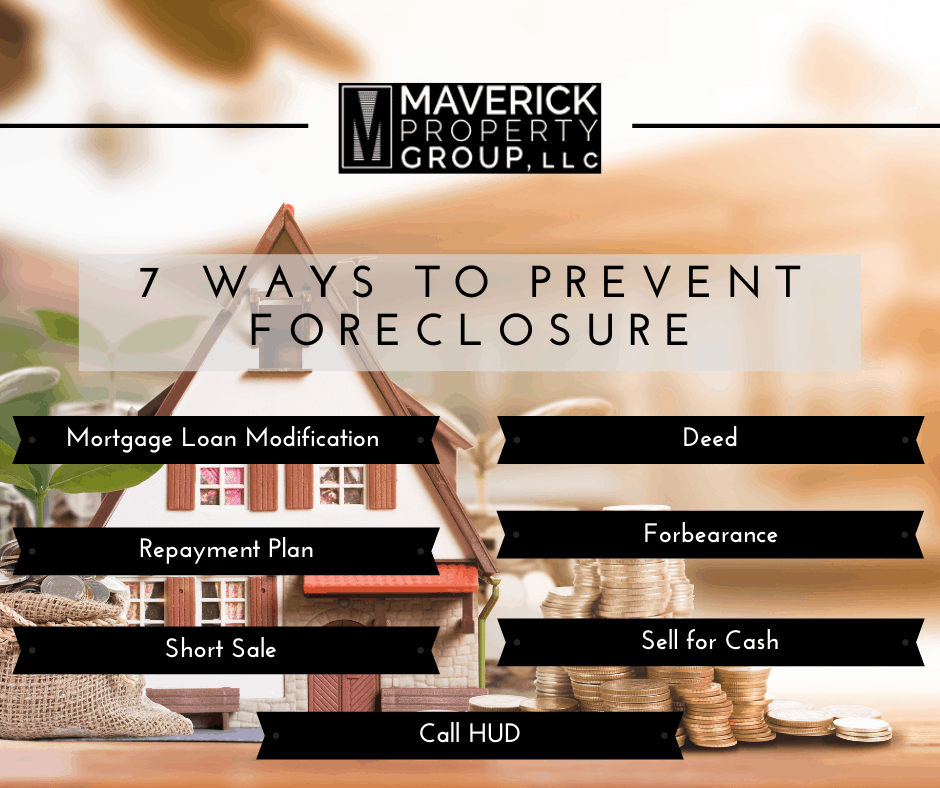 Many homeowners have gone through financial difficulties, especially during this pandemic so there are a lot of foreclosed homes in Charlotte NC. Please know you can choose the best way to prevent foreclosure, and these are just a few options. Be sure to engage in conversation with Maverick Property Group to see what possibilities are out there.
We can show you how to prevent foreclosure and how to avoid foreclosure.
If You Need More Information About Saving Your House From Foreclosure Please Contact Us
We have worked with many clients facing foreclosure and we are happy to help you by sharing our expert advise. Feel free to call us today.