If you are purchasing or selling a house in Probate, you must know that it is a complicated process. This is because there is a strict legal framework that you must go through, and it is best you learn and know how to go through it.
The aim of introducing this legal framework is to help prevent probate executors from making emotional decisions. With this framework in place, their NC probate process will be executed with ease.
If you are new to this and have no idea of how this framework works, then you need to get yourself the best realtors in Mooresville, NC, to walk you through the entire process. In a case like this, it is advisable to work with Maverick Property Group, LLC. We have over eight years of experience in the real estate business, helping hundreds of people in the process.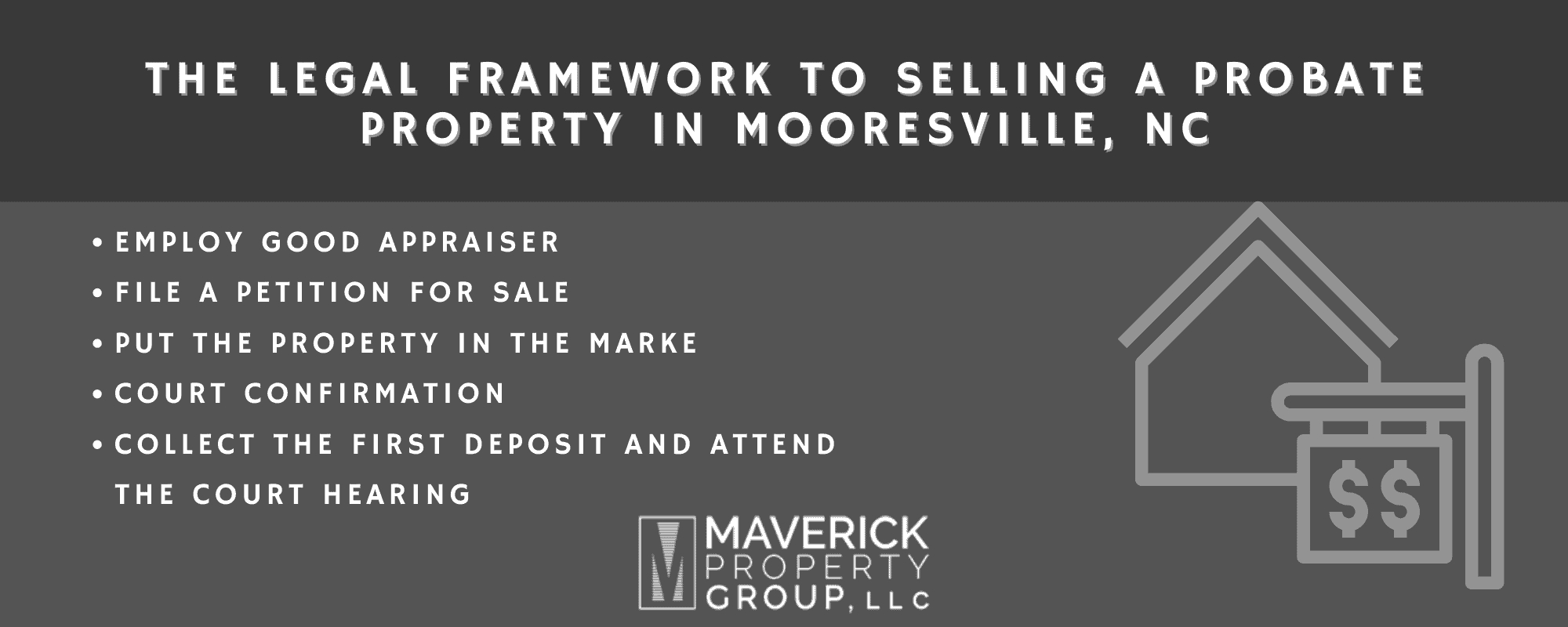 The Legal Framework to Selling A Probate Property in Mooresville, NC
Employ good Appraiser
Having a good appraiser is one of the first things you need to do during the NC probate process. However, getting a good Appraiser might be a difficult task, and yet make a huge difference. As a result, we will implore you to work with Maverick Property Group, Mooresville, NC.
File a Petition for Sale
Once you have gotten your appraisal, you need to proceed to the court to file a petition to declare your property for sale in Mooresville, NC. While filing your petition, you must include any information that would lead to the successful transaction and the method that will be used to complete the sale. These methods may include selling to the open real estate market or in an auction.
Put the property in the market
When you have gotten the approval from the court, you can now put your probate property for sale. But first, you must tell your potential buyer that the court needs to confirm the transaction before you accept the offer.
Court confirmation
Because of the busy schedule of the court, court confirmation may take 20 to 40 days from the day you file the hearing.
Collect the first deposit and attend the court hearing
Before the court hearing, you are required to collect a maximum of 10% deposit of the selling price from the potential buyer. After this, you will attend the court hearing. During this hearing, you will see a lot of other buyers come forward with their proposals.
If the court finds it difficult to decide on a good buyer, there would be bidding wars, and the bid will increase by a particular amount. If your initial buyer loses to the bids, then you have to return the 10% deposit.
Work with Maverick Property Group, Mooresville, NC for Your Probate Sale
From the steps listed above, you can see that getting actively involved in the NC probate process can be difficult, but having an experienced real estate company with you can help simplify the process.
We strive to help our clients find the best solution to their complex real estate problems.
We have helped many clients to sell or buy properties in probate, and yours won't be different. Feel free to reach out to us today. We will be happy to help you.