Almost everything you do requires a plan, including a divorce. Going through a divorce requires that you make decisions on joint assets. In this case, several couples always conclude on selling assets before divorce.
However, the process involved in divorce sales is not easy. The only way to sail through it is by having an experienced realtor in place. If you crave the best deal on the sale of your divorce house, then working with Maverick Property Group, LLC, is your only answer. We will offer you a cash sale so that you can quickly sell your house and take care of your family situation.
There are some things you should know when it comes to a divorce home sale. Also, if you have questions such as, "can I sell my house without my spouse's signature?" and "what happens to a house in a divorce?" Keep calm, this article is for you. Let's go for it!
Who Owns A House After Divorce?
The truth is, no one owns the house after a divorce. During the divorce process, the couple must work to divide their assets during the entire divorce settlement process. If you and your spouse end up settling outside of court, you can decide together what is best for both of you.
What Is A Prenup (Or Postnuptial) Agreement?
Prenuptial (before the wedding) and postnuptial (after the wedding) agreements are legal documents signed by both spouses that show who would get which assets and who would be responsible for which debts in the case of a divorce.
Nuptial agreements commonly exist between couples when one or both parties have significant properties (assets) before the marriage.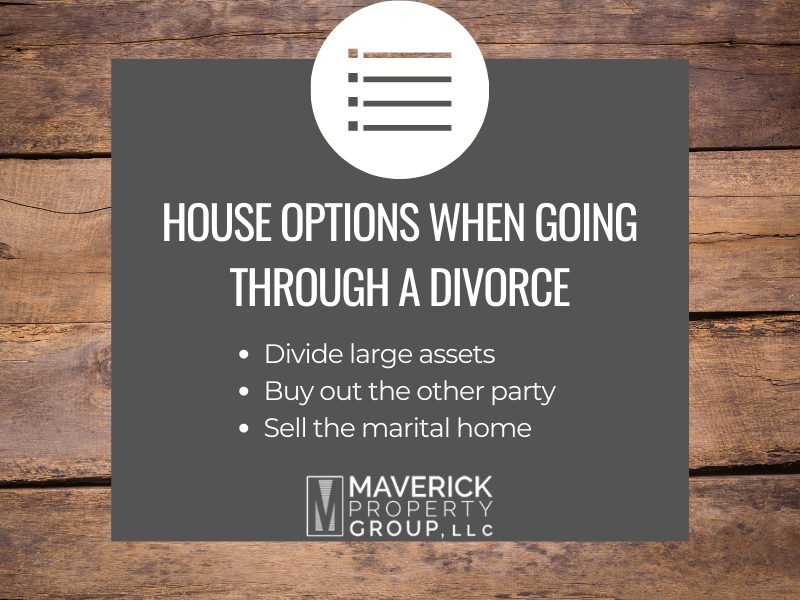 House Options When Going Through A Divorce
Divide Large Assets
Dividing large assets can be a quicker way to finalize a divorce. This is because you won't have to wait for a property sale or go through a long negotiation regarding who should get the bigger share.
In other words, if you and your spouse have multiple assets, you can agree to divide the assets with each person taking ownership of assets worth approximately the same amount. It is advisable to negotiate the value of all the assets before reaching a consensus with your partner. When you work with us at Maverick Property Group, LLC, we will explore the value of your home and offer you an irresistible deal you will like. Indeed, we are the best home buyer in Carolina, NC.
Buy Out The Other Party
One spouse may choose to keep the family home because it is close to their office or to maintain consistency for their children. It is also a good option if the local real estate market isn't favorable, and you'd be at a loss if you sell. 
In a buyout, the party that wants to keep the house pays the other party half of the current market value of the property to gain sole ownership.
Sell The Marital Home
One of the most common things between divorced couples is to put the home on the market and split the proceeds. Selling a house during a divorce requires that you agree on a wide range of decisions with your partner. This includes hiring a real estate agent, contract negotiation, and closing date. This process requires good cooperation and communication among you, your attorney, and the real estate agent.
To simplify things, you should work with a trusted Concord real estate agent. In this case, we would recommend that you work with us at Maverick Property Group, Concord, NC. We will help you sell your house fast and for the best price.