Deciding to put a property for sale in Mooresville, NC, during divorce can be more difficult than it seems. Especially when you and your partner own the house together. As a result, we will be walking you through the process of selling your houses in Mooresville, NC, during divorce in this article. Below are the 3 simple steps to follow when you want to trigger a property sale during divorce:
1. Look for a Trusted Agent
The first thing you need to do is to find a trusted agent to work with. A trusted agent will suggest the necessary improvements you need to make and help you with the major decisions, all to get a fair price for the property you want to sell.
To get the best results and make a difference, it is advisable to work with Maverick Property Group, Mooresville, NC. We have a team of experts that will help you and your partner find the right buyer for your houses in Mooresville, North Carolina. We have worked with a lot of satisfied clients, especially divorcees. Let us help you too.
2. Make Necessary Repair and Renovations
Before you decide to sell your home, you should look for the areas in the home that need major renovations and repairs. Although some buyers do not mind buying the property the way it is, you should endeavor to make necessary renovations so that you can get the best value.
3. Agree on the Price You and Your Partner Are Willing to Accept
This is the most crucial part of the entire process. Before you proceed to put the house up for sale, you and your partner must decide on the price you are willing to put the house up for with your agent in place. Once you and your partner have reached a mutual agreement, you can then proceed to list the house on the market.
When you have listed the house, the agency will show your property to potential buyers. This is why we recommend that you work with Maverick Property Group, Mooresville, NC. We are the best home buyer in Mooresville, NC. We offer an irresistible fair cash deal and can pay within 24 hours. Selling your house and moving on with your life shouldn't be a problem when you deal with us.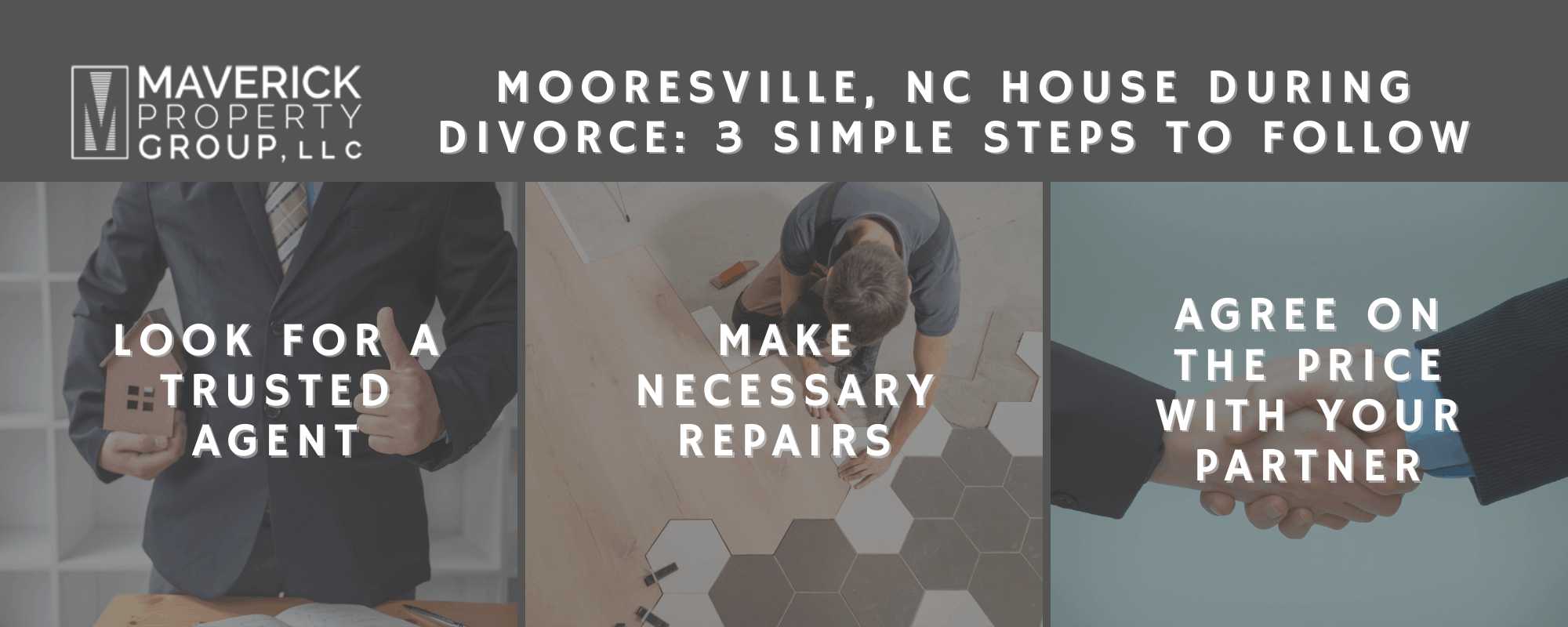 Selling Your Home in a Divorce with Maverick Property Group
Going through a divorce is usually one of the most difficult times a person can face. In a situation like this, you and your ex-partner will want to have a fast sale at a reasonable price.
When you need to sell your homes in Mooresville fast, let us help you out.
We have worked with many clients facing divorce and we are happy to help you by sharing our expert advise. Feel free to call us today.