Probate sale could help save money upfront, but it can be a complicated way to acquire a house. The probate sales process is different from traditional selling. Here, the process is monitored by a court. A probate sale usually happens when someone, the owner of a property, dies without a will. 
If you are living in Concord, NC, you must understand the probate sales procedure in North Carolina, and it varies from one region to the other. To make life easier, you should work with Concord, NC, real estate. In this case, Maverick Property Group, LLC, is experienced in handling probate real estate. We will analyze your situation to ensure we give you the best possible option to sell the probate property in accordance with the specific laws.
That said, we have come up with this article to enlighten you about how probate sales work and what you need to know to have a smooth ride. Let's explore more.
How Does A Probate Sale Work?
In the probate sale, the probate court will appoint a real estate administrator to handle the entire sales process. The executor will be the one to enlist a real estate agent, market the home, and be transparent. However, many executors in Concord prefer to work with Maverick Property Group because they are aware of our knowledge in the local real estate market. This is why we are considered the best indigenous Concord, NC, real estate agent. 
Once a buyer is found and has submitted an offer, the real estate executor will work on getting approval from the court to sell the home. The heirs of the property will be contacted, and if there are no objections, the sales process will continue. 
While waiting for the court hearing, other buyers can still submit their bids. The market is still open for anyone. Even after the court appointment has been done, all interested buyers can present their bids to the judge. The winner is expected to pay 10% of the offered price immediately.
Pros And Cons Of Probate Sale
It's Cheap
One of the main perks of buying a probate home is that the prices are usually lower than traditional home buying. If you are looking for the best ways to get a home without too much cost, then a probate sale might be the best option for you. 
Investors Love Probate Sales
This is because it helps them save money. Probate real estate is cheap when compared to its relative price in a traditional sale.
Extra Legal Fees, Appraisal Fees, And Other Expenses
Family Problems May Arise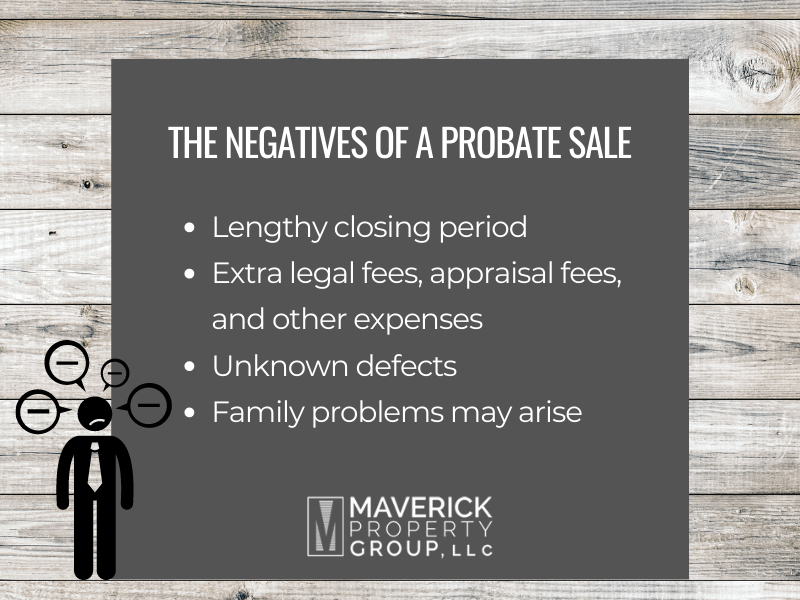 If you intend to purchase a probate property, be careful in your dealings. Thankfully, if you want to get the best results, Maverick Property Group, LLC, is the right place to seek help. We handle probate sales with ease because of our expertise and experience. We will guide you through the process without breaking any sweat.