When you are going through a divorce, one of the things you will be thinking about is whether or not to sell the divorce house. Divorce and selling assets are probably two of the most stressful life events. Going through the two at the same time can be fifty times worse. Questions of ownership can also arise when you are on the verge of a divorce.
For many couples, their home is the greatest asset they have, but the conditions have stated that they should get rid of it. Selling a home after a divorce could be very emotional and making a wrong move can haunt you for many years. To be on the safe side, it is advisable that you work with a top-rated real estate agent, Concord, NC. Maverick Property Group, LLC, has been in this business for years, and have a lot of satisfied clients, especially divorcees. Selling your house and moving on with your life shouldn't be a problem when you deal with us. 
That said, we will be laying emphasis on home selling during divorce and the reasons behind it in this article. Let's explore more.
Reason for selling a house during divorce
Legal Reasons
Some divorces are usually for people that can deal peacefully with one another without any fights. If this is your case, you can discuss the best option for your situation and act accordingly. If both of you contributed to the purchase of the home, you should reach a mutual agreement on how the money received from the sale will be shared.
However, if you cannot agree outside of court, either on your own or through meditation with your attorneys, the court will decide for you. Oftentimes, the verdict given by the judge is not favorable to either party. This is why it is advisable to agree beforehand.
Selling a home in a divorce is a tricky process that requires deep thought. You can get assessments of value from an appraisal or competent local real estate agents, Concord, NC. In this case, working with Maverick Property Group, LLC is enough to get the best deal for your house.
Emotional Reasons
Divorce and selling a home always go together because of the psychological issues that might arise from keeping the property. For instance, you may have envisioned a fulfilling and happy life in your home, including children and pets. And then, suddenly, divorce comes in. In this case, selling the house after the divorce is the best thing for your mental health.
At Maverick Property Group, LLC, we understand what you are going through, and we will offer you an irresistible cash offer when you decide to sell your Concord divorce house. During difficult times, you don't have to worry about the sale of your home. We have got you covered.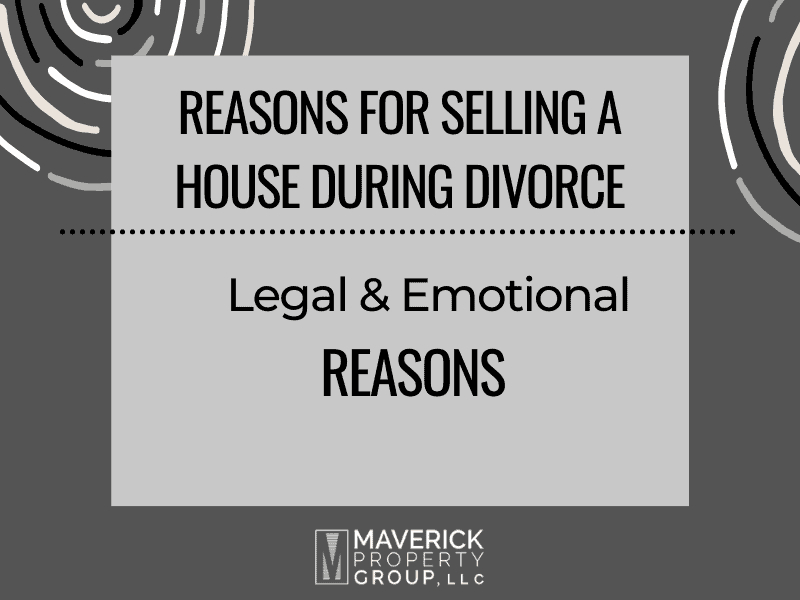 Be Relax And Get The Best Deal For Your Divorce House
Selling your home during a divorce agreement is no different from selling regular real estate property. However, in a case like this, you must have a solid groundwork and be relaxed before you can work effectively. 
For a seamless transaction, it is advisable to hire a good real estate company. When you work with us at Maverick Property Group, Concord, NC, we will buy your house from you at the highest possible price so that you can move on and live the good life you deserve.