The divorce papers have been signed and filed irrespective of the mode of separation. Yet, there might be some issues you still need to attend to, for instance, the family home. Who has the right to it, who has the right to sell it, who has the right to live in it, and who owns it? You should pay attention to this part if you don't want to end up losing. For this reason, we recommend that you work with a competent attorney and real estate agent. When you work with experts like Maverick Property Group, LLC, you can be assured that you will get every part of your share.
Furthermore, if the question on your mind is, "can I sell my house without my spouse's signature?" The truth is, if both husband and wife are listed on the deed, but the mortgage is in the husband's name, you will need a quitclaim deed to transfer the mortgage responsibility and the deed to one name.
What Is A Quitclaim Deed?
A quitclaim deed is an agreeable solution where your wife agrees that she gives up ownership of the property to you. Several attorneys and real estate agents often prefer this method because it helps them transfer the ownership of the property with ease.
You should endeavor to read the mortgage documents carefully. If the mortgage deed claims that you and your wife are joint tenants, both of you are co-owners of the house. In a case like this, both signatures would be needed when you want to sell the property.
In addition, you should know that the quitclaim deed doesn't relieve either party from the mortgage obligation. If the original mortgage document lists both parties as responsible and the divorce doesn't include an indemnity clause for payment, you will have to see your lawyer again to ensure that your ex is freed from the mortgage commitment. This might even convince her to sign.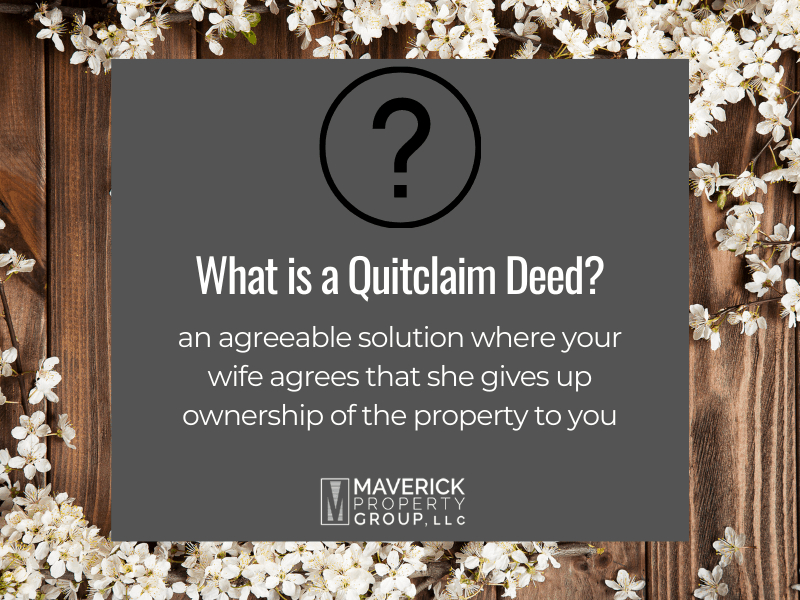 Do I Need My Ex-wife's Signatures For A Divorce Sale?
If you intend to put the house on the market and sell it, both signatures are also needed. If you intend to sell the property without her permission, then the buyer will only be entitled to half the property until she has given up her part.
However, if you have acquired the property before marriage and you are the sole owner of the house, you can sell the property at will. If part of her income was used to pay the mortgage associated with the house at some point, then you will also need a quitclaim deed to proceed.
There are several things to consider when trying to sell a divorce house. In fact, if you are not careful, you may end up falling into the wrong hands. To go through this process successfully, Maverick Property Group is here to guide you in making the right decisions concerning your real estate. Feel free to book a call with us at any time of your convenience. We are always available to hear from you.