Foreclosure occurs when the lender makes an attempt to recover the balance of the loan that the borrower is owing by selling the assets used as collateral. If you are dealing with a threat of foreclosure, this could be very overwhelming for you. The thought of losing your property could be devastating. The worst part about this is that it could leave a huge dent in your credit score if it is not taken care of.
However, if your home is at risk of foreclosure, it is not the time to start panicking. You should rather devise a way forward and think about how you can stop the foreclosure process in NC and sell your home with ease. You can even make things easier for yourself and collaborate with the best real estate company in Mooresville, NC. At Maverick Property Group, we understand what you're going through, and we will give you an everlasting solution by offering you a fast cash offer. As a result, we will show you the best ways you can avoid or stop foreclosure in NC in this article.
How to Avoid Foreclosure of Your Home in Mooresville, NC?
Negotiate with your mortgage lender
This process might be time-consuming, but it will still get you good results. Most lenders love working with the homeowners to get them back on track instead of putting their homes into foreclosure. If you are lucky to have such a nice lender, seize the opportunity and negotiate with your lender and call your bank to work out a repayment plan.
Sell Your House Fast
This is another way of getting money to pay off your mortgage and avoid foreclosure in NC. In a case like this, one mistake the sellers make is attempting to sell their homes themselves. The truth is, doing this by yourself does not guarantee any sales. It might even take several months before you get a call from the potential buyer. And during that time, your properties will be under foreclosure in Mooresville, NC.
To be on the safer side, the best thing to do is to contact Maverick Property Group, Mooresville, NC, directly. We are the best realtors in Mooresville, NC, and we will help you sell your house quickly. We have the best team you can work with, and we will make the sales process easier and faster than a traditional buyer.
Declare Bankruptcy
Another way to stop the foreclosure of your home is to declare bankruptcy. When you do this, you will be able to remain in the house without making any payment to your lender. You can then save up the money you are earning to rent a new place.
Although filing for bankruptcy will halt the foreclosure process while you deal with the outstanding debt. One downside about filing for bankruptcy is that it may prevent you from trying to borrow money in the future. So, if you intend on declaring bankruptcy, ensure you are making the right choice.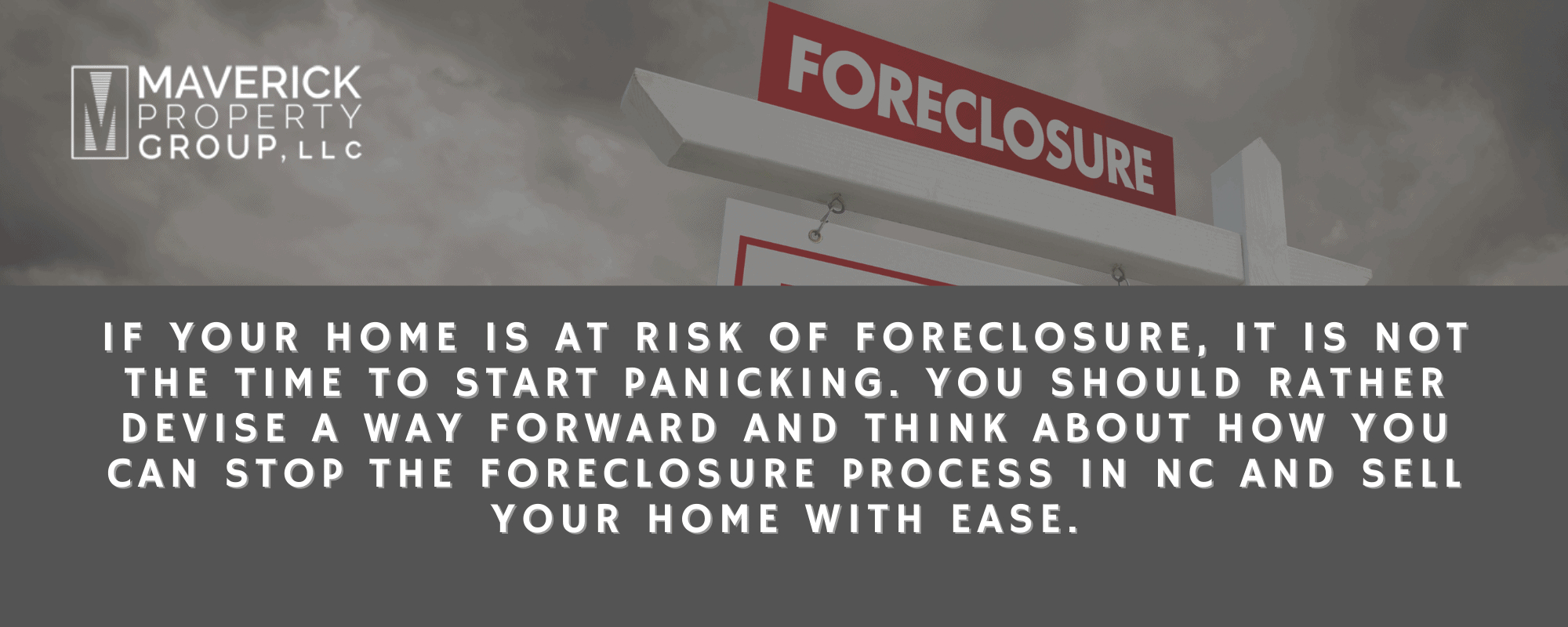 Let Maverick Property Group Free You from Foreclosure Today!
We understand that trying to sell your home in fear of foreclosure is not an easy process. This is why we give the best offers for our clients irrespective of the condition of the house they want to sell. If you're looking for fast buyers, we can help you get that with ease.
At Maverick Property Group, Mooresville, NC, our motto is to help improve neighborhoods and communities.
Get the best deals from us today. We can help you to find a lasting solution to your foreclosed homes in Mooresville, NC.